Case study of AI automated translation at Panasonic

Overcoming the barriers of high security requirements and helping to speed up management

With more than 240,000 employees around the world, Panasonic is a comprehensive electronics manufacturer with approximately 500 affiliated companies worldwide. Many people may have an image of home appliances, but in addition, the company is developing a wide variety of businesses around the world, including electrical facilities equipment, housing materials, supply chains such as logistics, and electronic components for automobiles and B to B.

Since 2019, the company has been implementing 'Mirai Translator®' company-wide. In this article, we asked Mr. Shogo Hamasaki of Panasonic Corporation's Innovation Strategy Office and Mr. Riku Usami of Automotive Company's Infotainment Systems Business Division about the background and the sense of use in the field.
Panasonic Corporation
Under the brand slogan "A Better Life, A Better World," the Panasonic Group is taking on new challenges to create a better life for each customer and a better society.
Mr. Shogo Hamasaki, Strategy Planning Department, Innovation Strategy Office
Mr. Riku Usami, Infotainment Systems Business Division, Automotive Company
Challenge: No service was available to meet high information security requirements

Left: Mr. Hamasaki; Right: Mr. Usami
— First of all, please tell us what you are working on.
Hamasaki: The Innovation Strategy Office, to which I belong, is in charge of formulating and promoting technology strategies for Panasonic as a whole and promoting open innovation. Among them, I am in charge of searching for startups with cutting-edge technologies and business models and technology scouting.
Usami: The Infotainment Systems Business Division, to which I belong, develops car navigation systems, car audio systems, and IVI (In-Vehicle Infotainment system) cockpits. Among them, I am in charge of system testing of IVI for car manufacturers. I promote system testing overseas by communicating with local engineers in North America, South America, Europe, and Southeast Asia.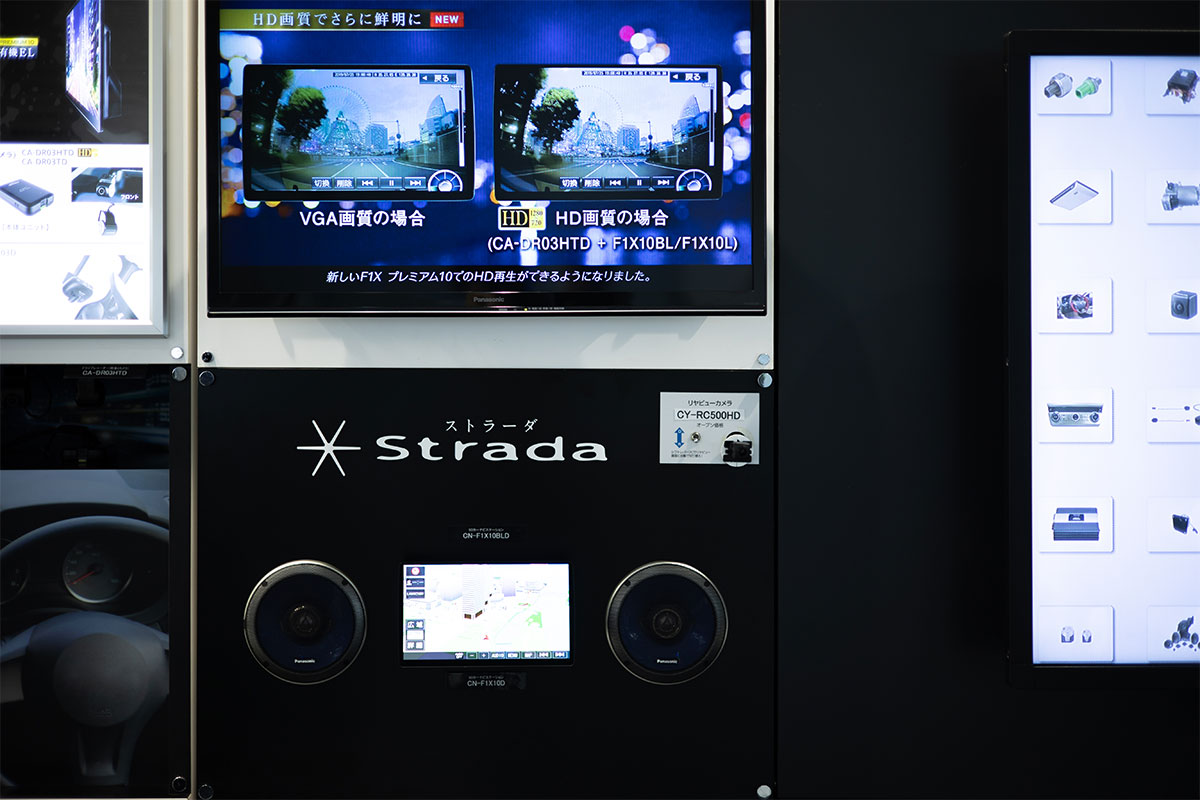 — Please tell us the background of the introduction. What kind of problems did you have in the first place?
Hamasaki: Actually, "technology" was the starting point, not the problem. Our department regularly surveys startups around the world to find new business models and technologies, create products together, and work more efficiently.
I met Mirai Translate when a business division, which was trying to develop a speech translation business, turned its attention to the technology. While participating in the discussion, I was wondering if we could introduce the technology of text translation instead of speech translation into our company.
— Did you originally use a different translation tool in your company?
Hamasaki: No, basically each staff member covered it with their own skills. There was a need, but we couldn't reach an agreement on information security requirements. There were cases that we asked a translation service company, but it takes time and money. And English is not the only language to be translated. Against this background, there was no company-wide movement.
— In fact, did you both translate by yourself while you were working?
Hamasaki: Yes. In my department, I have many opportunities to interact with foreign companies on a daily basis, and I also read emails and presentation materials from venture companies around the world. The focus of this business is on "speed" to quickly find promising companies. The ability to efficiently analyze materials in English has been a high priority in our work.
Usami: In my job, I send documents to engineers overseas for functional testing. Since all documents describing the test details and methods are written in Japanese, we have asked translators and local engineers who can speak Japanese. However, there were over 10,000 test items and human translation took a long time.
— Even though you first found us from technology, we guess that you probably compared us with other services before implementation. Why did you choose Mirai Translator®?
Hamasaki: It is an information security perspective that has been the biggest "wall" ever. There are strict internal rules that must be reviewed with the information security and management departments before implementation.
At the preparatory stage for the implementation of the system, we asked Mirai Translate to answer questions, coordinate opinions, and verify whether it can cope with the requirements. I think the location of the server and the operation system are strict requirements unique to a large company, but it is essential to eliminate "risk of information leakage."
— Have you discussed the point of view of translation accuracy?
Hamasaki: Of course. I received information from Mirai Translate, but our company has a research department that handles language processing in the company, so I asked a technician to evaluate the performance. We also verified the accuracy.
Impressions after launch: Research speeds up, communication hurdles lower
— We heard that there was a trial period before implementation.
Hamasaki: First, we gave a one-month trial to about 1,000 people in the R&D and planning departments. We have employees with various jobs and responsibilities. Since it was the first time for us to introduce a translation tool, I thought that I should verify and visualize how much it would stick to everyone. Also, if the survey results were good, it was aimed to make it easier to execute the budget.
In the survey, to be honest, the figures were more than I expected, and I felt, "Everyone was having a hard time with English." With this, we expanded the scope of implementation.
— How do you actually use it in your business?
Hamasaki: Personally, my daily English input has become much more efficient. I have the impression that the outline of even thick English documents can be read easily and that I can find the information I want in a short time.
Within the Group, the system is currently used by 1,000 employees in Japan and overseas, and is used in a variety of ways depending on the type of work in charge. I often hear about communication between Japan and overseas bases. In addition to sharing information on a daily basis, I feel that it contributes to the speed of every business in terms of conveying the policies of Japanese management to the world in the shortest possible time.
Usami: Indeed, in my job, the system is particularly useful in the exchanges with overseas bases. Evaluation specifications and evaluation methods written in Japanese, translation of environment building materials, and communication via email are all supported by Mirai Translator®.
In most cases, sending a translated document is not enough, and questions and answers about the details and specifications are required. The conversation is basically in English, but with Mirai Translator®, I feel that both accuracy and speed have improved considerably.
Most of all, the psychological hurdle of "communicate in English" has been lowered. In the past, I had a high psychological barrier to writing English emails, even if I thought, "Oh, maybe I should give him that information." Now, I can do that easily and have close communication with local members.
Also, as you get used to it, you will come to understand "easy-to-translate Japanese". As a result, I was able to further reduce communication costs by improving not only email communication but also Japanese document writing.
Future prospects: Beyond the handicaps of all Japanese companies operating globally
— Are there any tasks that you would like to spend more time on with the improved efficiency of translation work?
Hamasaki: Not only do I promote my own work, but I personally want Japanese employees working overseas to make the most of it. I had ever been stationed in the United States. When I was stationed there, I often had to translate documents sent in Japanese so that I could communicate them to the local people.
In some cases, it becomes a burden as a workload. I believe that if we can reduce such tasks, they will be able to realize better working styles and maximize the value that they can demonstrate by being overseas.
Usami: To put it simply, I want to contribute more to "product quality." I think translating test documents and communicating them are only a way to support quality. By completing such tasks in less time, I want to spend more time where our customers value more.
— Lastly, can you make comments to those who are considering the implementation of Mirai Translator®?
Hamasaki: This is a point that came up when I talked with top management before the implementation—the "language barrier" is a handicap not only of Panasonic, but also of many Japanese companies that are involved in global business. In this context, this kind of tool will lead to improved international competitiveness. I think there are such needs not only in our company.
Usami: I myself was not good at English. However, since I started using Mirai Translator®, I have been able to communicate with overseas bases as usual tasks. If anyone has the same feeling, I recommend to use it.
Watch the exclusive interview with Mr. Hamasaki.
Cloud-based enterprise AI automated translation Mirai Translator®